Everyone that knows Cody and I knows that we are huge Disney fans. Fans of the parks, the movies, the characters, and the magic.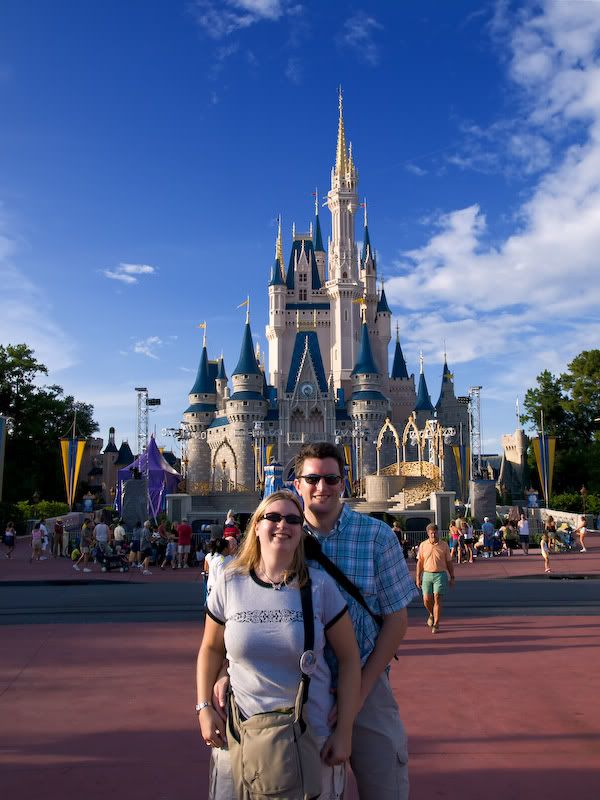 We have both been fans even when we first met, in fact we even made a report on Disney World resorts for a project we did together the year we met (back in 9th grade). So, after we were married it was never a question where we would honeymoon. Since our wedding was far from traditional we were not able to go on a vacation together for a few years. I'll explain the whole wedding story another time.
We finally went to Walt Disney World in September 2007 and had an wonderful time we also made some great friends. There is an impressive online community of Disney fans that we became involved with and even met some of them on our first trip. Here we all are out on a Wishes cruise celebrating Fred and Lynn's anniversary.
(going around left to right Abby, Leeann, Linda, me, Lynn, Fred, Cody, Lisa and Paul) I borrowed this picture from Abby, hopefully she doesn't mind.
After our third trip to WDW in a year (I told you we were fans of the parks) we were excited to tell our Disney friends that we were expecting. Through the pregnancy we both tried to update them with how things were going and especially the shock and joy that we were having triplets.
On our first trip we met Abby and her parents (Fred and Lynn) and the McNeils. They are just great people and were full of surprises on the trip and after. One surprise came while I was on hospital bed rest.
From Abby and her Mom three sock monkeys, a quilt made for each of the boys. If you look closely the fabric of the quilts are all sock monkey related and even a homemade card for our 3 little monkeys.
Then the week I came home another package arrived on our doorstep. This one from the McNeils.
Absolutely gorgeous crochet blankets for the boys all the way from Glasgow. I was surprised and thrilled. Also a card congratulating us on our new babies. Yes,
babies
: a card for multiples; the first that we had ever seen.
Finally just a couple weeks ago another package arrived, this one from Canada. From Suz who I can only assume is a very proud Canadian.
It included 2010 Olympic onsies, T-shirts, pacifier clips with the Toronto Leafs logo on them and of course a beach ball. Plus a card for triplets, the first we have ever seen and trust me we've looked. I am really excited for the Olympic outfits, of course I still have my 2002 Olympic volunteer uniforms.
I have been overwhelmed by the kindness, effort and thoughtfulness of all of the friends we've made through our shared love of Disney. I am so far behind on thank you cards it's depressing, but I wanted to at least say thank you here and show off all of their hard work and just how wonderful the people we've met are.